Morean Arts Center Current Exhibitions
Morean Arts Center Current Exhibitions
Leslie Neumann: Manna from Heaven…and Earth
May 12- June 29, 2018
The Morean is committed to supporting local artists, and to showing the trajectory of an established artist's work over a long period of time. In her third solo show at the Morean, artist and environmental activist Leslie Neumann presents a brand new body of work which focuses on the beauty of nature vs. our troubling current events.
Pictured: Leslie Neumann, Squall
Photo Credit: George Blanchette

Artist Talk with Leslie Neumann
Art & Environmental Activism
Thursday, June 21
6-7:30PM
Water over the Bridge: Contemporary Seascapes
May 12- June 29, 2018
NYC independent curator D. Dominick Lombardi selects artists whose work reflects the effects of global warming on our oceans. This exhibition features the works of artists from both the New York City metro area, as well as Tampa Bay area artists, creating a provocative, cross-country dialog. Selected artists include Selina Roman, Anne Bowen, Babs Reingold, Carolina Cleere, Margaret LeJeune, Holly Sears, Rieko Fujinami, Bill Gusky, Dale Leifeste, China Marks and Kenny Jensen. Pictured: Holly Sears, Swimmers
Click here to download full show catalog.
Gallery Talk during our Morean Arts Center exclusive member preview, Friday May 11 from 5-7pm. Featuring co-curator D. Dominick Lombardi at 5:30pm
Thanks to our Accommodations Sponsor:

Sarah Hull at the  Hermitage Art Gallery
February 27 – June 24, 2018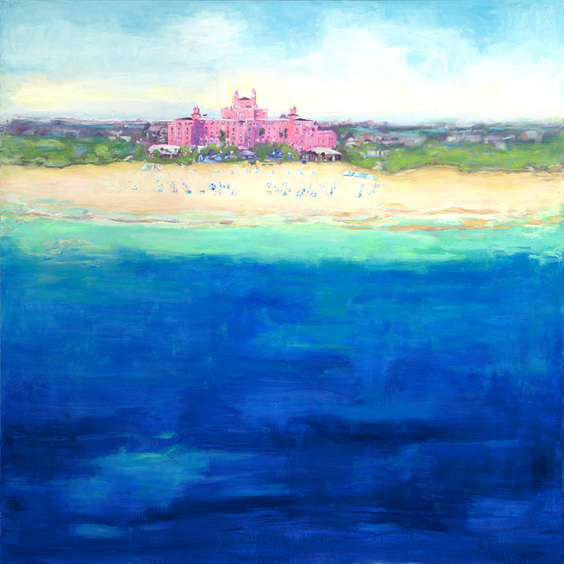 The Morean and Hermitage Apartment Homes are partnering to bring recognition to our local artists by way of exhibition space. The first floor lobby of the  Hermitage, located two blocks from the Morean, is a beautiful, airy, contemporary space–perfect for showcasing artwork. See Sarah Hull's bird's-eye-view beach paintings at the Hermitage Apartment Homes lobby, located at 151 7th Street S in St. Petersburg.
"I've always been interested in how perspective, angles and shadows convey tension and mood. A few years ago, I began to paint objects, figures and landscapes as they appear from an elevated point of view.  In 2015, I began to focus specifically on beaches in Florida and New England. I first began to photo document beach scenes from the top floor of hotels, later in an airplane. I have also learned to use drones to  capture references for this high-elevation, bird's eye perspective. My intent with this series is to evoke a sense of isolation one might experience in a crowd; the juxtaposition of isolation and loneliness co-existing within a relaxed, leisurely recreational space, voyeuristically looking into, but not being part of the world below."