Morean Arts Center Current Exhibitions
Morean Arts Center Current Exhibitions
Fresh Squeezed 2: Emerging Artists in Florida
March 10 – April 27, 2018
The Morean is pleased to invite emerging artists currently residing in Florida to submit entries for possible exhibition in the second annual Fresh Squeezed: Emerging Artists in Florida. The exhibition will be held at the Morean Arts Center March 10 – April 27, 2018. The purpose of Fresh Squeezed is to encourage, support and celebrate artists who fly under the radar, who haven't had their big break, whose work may not be typical gallery or museum fare. For Fresh Squeezed, we encourage artists to break boundaries, to think of ways their work can create a dialog in our community, our region, in our wild, wacky, wonderful state.
Thank you to our generous sponsor!
Fresh Squeezed 2 Participating Artists
Catherine Gomez was born in 1992, in Houston, TX next door to Yonce. Born to a beautiful single teen and thief. Raised mostly by strong, independent women, she grew up roaming the mountain sides of Colombia, napping in neighbors' bushes in Orlando, impulsive, and passionate as hell. She can't count to save her life and her dog is a jerk. Inspired to pursue fine arts by music videos, muralists, and cartoons, she aspires to integrate the audience in her work through New Media techniques. After studying abroad in Chile she will be graduating in the Fall of 2018 with her BFA from the University of South Florida.
"People are the most important aspects of our lives; they are far beyond the value of most of the essentials we need. It's because of this that I make art. I need people, so I make the work. I need them, as much as they need art. It's a mutualistic relationship – my work revolves around communities. For this very reason, my studio practice is intentionally centered on human interaction. My current work in Social Engagement focuses on assembled installations that facilitate viewer participation. The installations are inherently cycles of work, where both the viewer and I process ideas of humanity and collective identity. In my work I seek to unseat established binaries like author//spectator, active//passive, and real life//art. These decisions all seek to further unify with the audience and activate it. To make an effort to bridge the chasm between artist and spectator, my work endeavors to collaborate with the public."
Matthew Cicanese is a 26-year-old National Geographic Explorer, Emerging League Photographer with the International League of Conservation Photographers, and award-winning documentary artist based in the Tampa Bay region. As a deaf-blind survivor of infant menin
gitis, Matthew's art has evolved from his sensory deprivations. Matthew was a finalist in the 2015 Environmental Photographer of the Year Awards, and has displayed art in solo and group exhibitions including London's Royal Geographical Society, The Light Grey Art Lab (Minneapolis, MN), Power Plant Gallery (Durham, NC), Mahato Memorial Gallery (Durham, NC), and others.
"My process in creating photographic art that examines Earth's "Underdog Organisms" and the microcosms they call home stems from the visceral excitement we feel as children when we discover new things. I peer through my camera's viewfinder and enter worlds that can fit in the palm of my hand. Through this
portal I experience dream-like scenes that unravel before me. I watch as residents the size of a pin prick slip into and out of existence – and freeze moments in time through macro photographs. My ultimate goal as a documentary artist and conservationist is to instill in humans the desire to slow down… get low to the Earth… look closer… and observe. It is here that they will discover worlds they have never imagined right beneath their noses. If they can find just one of these worlds, and experience that sense of childlike wonder through discovery of something entirely new, then maybe their visceral connection to Earth can be reborn."
Katrina Sarah Miller is an interdisciplinary artist interested in the various forms of poetic expression. Nurtured at the performing arts schools of Palm Beach, her studies included poetry, dance, and photography. Upon attending university in Los Angeles at USC, she began working on interdisciplinary projects
for the Institute of Polymathic Studies and Arts for LA. She has been working with photography for 8 years. She currently resides in the Palm Beaches.
"Through (my series) SABER, I hope to acknowledge the roles of women within a changing environment, the insignificant daily horrors and oppositions endured, the destruction of one's home, the dumping of trash in community spaces, using residential areas undergoing gentrifying as backdrop for this visual metaphor: the female forms within a political agenda is a reasonable sacrifice for progress. Women who cling to their naturality, use the tools of this earth to carry themselves into an uncertain future."
Lauren Mitchell draws inspiration from her background in graphic design as well as the colors, vivid light and experience of residing in Florida. She was born in 1984 to a woman who commuted two hours each day to work in a cubicle and took her daughter to McDonalds so much that she got Happy Meal toys for free. She receiv
ed her BA in Graphic Design and Art History from San Diego State. L
auren currently resides in on the Space Coast of Florida with her husband and daughter. She is a photography instructor at Click Photo School.
"Through my work, I explore the idea of Florida as a place of fantasy and mundane reality existing side by side. My subjects are all threads weaved through my ordinary/not-so-ordinary experience. Additionally, I am continually inspired by my neighborhood, even for the reasons why I very much dislike it. Though my images often depict brightly saturated scenes, there is always something slightly dark and odd lying just below the surface — much like how it feels to live in the sunshine state."
Glenyse Thompson was born and raised in Chicago, and currently lives in St. Pete. She has participated in numerous group shows in the Tampa Bay area, including the Five by Five exhibition at the Tampa Museum of Art. She is a 2017 recipient of the Creative Capital Found
ation for Individual Artists, Professional Development Program —Florida Department of State Division of Cultural Affairs with Citizens for
Florida Arts, Inc.
"Utilizing lightfast permanent inks, acrylic and ink pen on panels or paper, my series is about conversations, opinions and arguments between people. Inspiration comes from the many interactions we have throughout our days with others. Background colors are used to demonstrate how lively the ebb and flow of discussions are and hand-drawn white ink illustrates how we converse with others during the course of a day, evening or at an event."
Jack Fields has been creating puppetry since 2007. He has earned two United Arts of Central Florida grants, both for the creation of puppet films. His first film, Happy Memories, has been accepted into 15 film festivals. His music video for an official They Might Be Gia
nts contest was one of three winners selected from one hundred fifty entries. Jack has received two scholarships: one from Puppetfest Midwest, and one from UNIMA. He lives in Orlando.
"My work is inspired by folklore, mythology, and the subconscious. It ranges from puppets that incorporate real teeth, glass eyes, and old sweaters to illustrations
that feature the Krampus, a holiday demon of Germanic folklore. The underlying theme is similar, whether the inflection of the piece is cute, ghoulish, or naive: that of the stranger from another world wandering into ours, the displacement of normalcy by alien forms. This highlights the subservience of the individual to the society they inhabit, whether or not they choose to take part. There is darkness in functioning within a system."
PCCA Senior Thesis Exhibition
See works from emerging artists Christopher Velez, Nicolas Glenn & Sara David, all seniors in the Pinellas County Center for the Arts at Gibbs High School. Pictured: Sara David
Sarah Hull at the  Hermitage Art Gallery
February 27 – June 24, 2018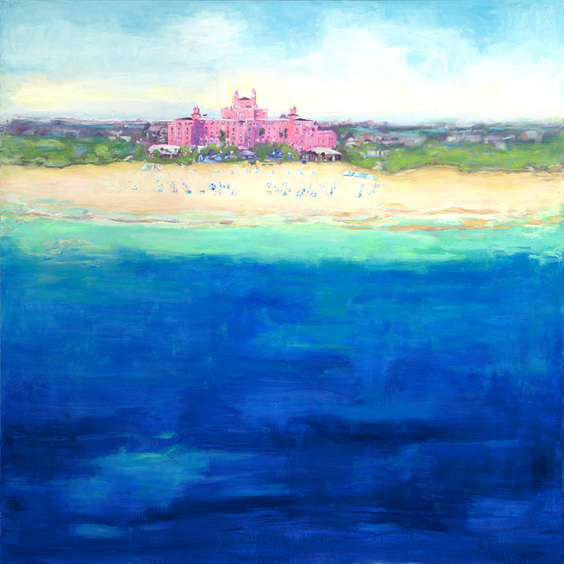 The Morean and Hermitage Apartment Homes are partnering to bring recognition to our local artists by way of exhibition space. The first floor lobby of the  Hermitage, located two blocks from the Morean, is a beautiful, airy, contemporary space–perfect for showcasing artwork. See Sarah Hull's bird's-eye-view beach paintings at the Hermitage Apartment Homes lobby, located at 151 7th Street S in St. Petersburg.
"I've always been interested in how perspective, angles and shadows convey tension and mood. A few years ago, I began to paint objects, figures and landscapes as they appear from an elevated point of view.  In 2015, I began to focus specifically on beaches in Florida and New England. I first began to photo document beach scenes from the top floor of hotels, later in an airplane. I have also learned to use drones to  capture references for this high-elevation, bird's eye perspective. My intent with this series is to evoke a sense of isolation one might experience in a crowd; the juxtaposition of isolation and loneliness co-existing within a relaxed, leisurely recreational space, voyeuristically looking into, but not being part of the world below."
Word & Image: Did You Ever See…?
October 26, 2017- April 8, 2018
Educating children about the arts, and offering them access to gallery and exhibition space, has been a key component of our mission at the Morean Arts Center. Since 1997, the Morean has worked with Pinellas County schools to create Word & Image: Arts and Education Partnership. The Morean hosts four of these juried exhibits each year, including work from students at the elementary, middle and high school levels.
Each year, students are challenged to create works of art based on a particular theme, and to incorporate a written statement within the piece. Past years' themes include "Let Freedom Ring," "On My Block," "Superheroes," and "Celebrating Harmony."
This year's theme is Did You Ever See…? Students were asked to convey, through visual art and the written word:
What's the most amazing or interesting thing you've ever laid eyes on? Something scary, something funny, something that was hard to believe? Using words and images, tell us what your eyes have seen!
Limited only by their imaginations, these children's creations are sometimes hilarious, often heartfelt, and always extraordinary.
Thank you to our Word & Image Sponsors:
The Hough Family Foundation